It would require a lot of "begging," though.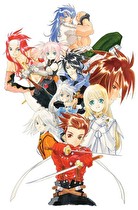 Characters from the Tales series could make an appearance in the upcoming Super Smash Bros. title, according to Tales producers Makoto Yoshizumi and Yoshito Higuchi, who are both working on the next Super Smash Bros. game.
They "would love" for Tales characters to make an appearance In Super Smash Bros. However, Yoshizumi also noted that the final decision will be Sakurai's to make, saying, "maybe if we beg Sakurai-san, it will happen! I know Higuchi-san would love it, but the decision is Sakurai-san's. I think it's still too early to talk about it."
Yoshizumi also clarified that only characters who have appeared on a Nintendo platform can be considered for inclusion in a Super Smash Bros. game. This rule cuts down the number of games that could be represented quite a bit, with Tales of Symphonia as the obvious frontrunner. The other mainline games that could be included are Tales of the Abyss, Tales of Graces, Tales of Hearts, and Tales of Innocence.
The next installment of Super Smash Bros. was announced at E3 2011. The game is set to appear on both the Wii U and 3DS and will feature some amount of connectivity. During a Nintendo Direct broadcast this June, Nintendo announced that Namco Bandai will be developing the game and that series creator Sakurai will oversee the project.