Look forward to the Wii U eShop title this winter.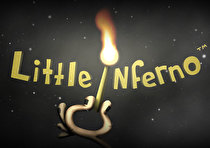 Little Inferno is coming to the Wii U eShop later this year. It is being developed by some of the developers that brought us World of Goo and Henry Hatsworth who have joined forces under the name Tomorrow Corporation.
A teaser trailer was revealed, which features children burning their toys using a Little Inferno fireplace to stay warm in a world where it appears to constantly snow. The trailer also implies that the artistic style will be similar to that of World of Goo.
Check out the teaser trailer below.
No firm date was given other than a message stating that the game was "coming Winter 2012." Little Inferno is also coming to both PC and Mac.
Tomorrow Corporation is an indie development team made up of Kyle Gabler, Kyle Gray, and Allen Blomquist. The development studio was founded in 2010, but Little Inferno is the first game to come from the team.