It's so cheap that you could be labeled a thief and Patricia Wagon could throw you in jail!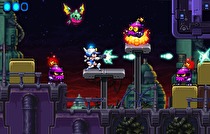 In case you didn't know, WayForward's Mighty Switch Force is available on the North American eShop for a $3 discount, bringing its normal $6 price down to $3. The sale began at 9 a.m. PT/12 p.m. ET today, and will run until 9 p.m. PT/12 a.m. ET on July 15/16.
This game is the fourth "Game of the Weekend" sale that Nintendo of America is doing for the 3DS eShop. The first three games were Super Mario Land, VVVVVV, and Sakura Samurai.
The late 2011 release added five new levels and some new tweaks for free in a game update back in May. If you get the game now, you'll get the new content right off the bat.
Mighty Switch Force is also getting a Wii U HD remake later this year.
You can read our review of Mighty Switch Force to see if you want to check the game out.