The developer's website promises to krash kart racing together with elements of platforming game play later this summer.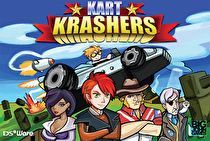 Kart Krashers will be coming to the DSi and 3DS download stores later this summer. Developer Big John Games is perhaps best known to Nintendo gamers for their many Wii, WiiWare, and DSiWare releases, including the Big Bass Arcade franchise and 2009 DSiWare title Thorium Wars.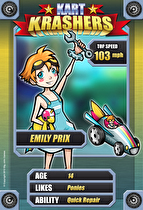 Kart Krashers, which is described on the developer's website as an "action game that blends kart racing with platforming game play," is a kart driving game where the main goal is to collect stars and smash into objects to try and achieve the highest event score possible. The game features a 10 stage circuit of the globe with three unique events in each. Earning a lot of points will allow the player to win up to three Golden Wheels for each of the events, which are necessary to advance in the competition.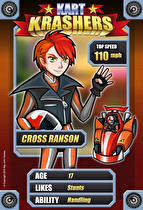 The game's roster of story characters starts off with a team of two drivers, Emily Prix and Cross Ranson. Emily can fix pretty much any mechanical problem and art work for the game suggests her "quick repair" ability will factor into the gameplay. She has entered into the competition in the hopes of using the prize money to help her struggling family. The second driver, Cross Ranson, is plagued by a mysterious curse that can only be broken by winning the Kart Krashers competition. Artwork suggests that his abilities lie in the area of improved handling. Throughout the course of the game, the player will encounter three more drivers who each have their own motivations and capabilities.
Kart Krashers will be available for download later this summer on both the DSiWare shop and the Nintendo 3DS eShop. Stay tuned for Nintendo World Report as the developer has promised more information about this upcoming DSiWare title later this week, along with the reveal of the game's official trailer.