What does "727" mean to you?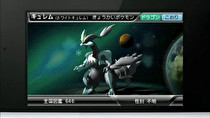 Pokédex 3D Pro received a new promotional video on the Japanese Nintendo channel.
Notably, it has been revealed that every single form of every single Pokémon will be in the upcoming eShop title, bringing the total number of in-app Pokémon to 727.
In addition to this, the video also clarified and detailed the new features in Pokédex 3D Pro not present in the original. Pokémon Challenge mode is a new quiz mode that tests knowledge on random Pokémon. The title also tracks if the player has taken a picture of various Pokémon in the AR Viewer, and gives easy access to view these photos if they are stored on an SD card.
Pokédex 3D Pro releases in Japan on July 14 in Japan, and everywhere else later this fall.