He's not getting any younger.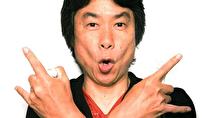 Nintendo is preparing for the eventual retirement of longtime creative force Shigeru Miyamoto, according to the recent investors Q&A held in Japan.
Although Miyamoto is not planning on leaving imminently, Nintendo Global President Satoru Iwata reassured investors that Nintendo is bringing up young developers to fill the role as the older guard of Nintendo mainstays, Miyamoto included, retire.
When the question of Miyamoto's retirement was raised, the Mario creator responded carefully due to last year's report that he was already considering retirement. Miyamoto stated that he was still active in his role, and that in addition to designing games like Nintendo Land, he "often think[s] of other things, such as what the future of the Japanese movie industry will be like. I do not have any concrete visions yet, but I am trying to keep my eyes on a variety of fields and to find any small possibilities for Nintendo to be involved in one way or the other."
Mr. Iwata added, "Mr. Miyamoto still will be actively creating things but we are working for the transition of power to go to younger people at the same time. Naturally the directors here will inevitably become too old to be able to continue their current positions someday and Nintendo might decrease its competitiveness without competent replacements. We are proceeding with preparations to avoid that situation."