As of 9 a.m. PT today and until 9 p.m. PT July 1, VVVVVV is only $5 on the eShop.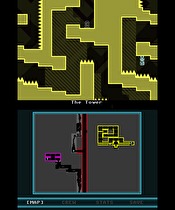 In case you didn't know, VVVVVV is available on the North American eShop for a $3 discount, bringing it's normal $8 price down to $5. The sale began at 9 a.m. PT/12 p.m. ET today, and will run until 9 p.m. PT/12 a.m. ET on July 1/2.
This game is the second "Game of the Weekend" sale that Nintendo of America is doing for the 3DS eShop. The inaugural game was Super Mario Land.
You can read our review of VVVVVV to see if you want to check the game out.
Check out Nintendo's official blurb on the sale below:
This weekend's featured title VVVVV – a game inspired by the classic 8-bit era and the direction of gravity – is available at a special price of $4.99. Offer is valid from 9 a.m. Pacific time on Friday, June 29, through 9 p.m. Pacific time on Sunday, July 1