Buy specially marked Frito-Lay products to get the chance to mail away for four exclusive characters.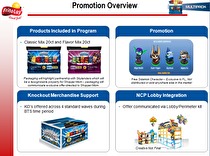 The Skylanders Sidekicks Frito-Lay promotion should be beginning on July 9, according to a Frito-Lay presentation.
To get Sidekicks, which are diminutive versions of existing Skylanders that appear next to your character in the game, you have to buy specially marked Frito Lay's Classic and Flavor 20-count Variety Packs, which are listed to be $6.15 in the marketing materials.
The promotion will work in waves, one for each of the four characters (Whisper Elf, Trigger Snappy, Gill Runt, and Terrabite), with the first beginning on July 9, and the other three kicking off every two weeks after (July 23, August 6, August 20).
Redemption details likely won't be confirmed until the boxes appear in stores, but it can be assumed that you will likely have to send in some sort of proof of purchase from the box to get the Sidekick mailed to you.