Another week, another batch of downloadable games head to Nintendo platforms.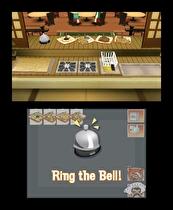 A Virtual Console game, two DSiWare games, two eShop titles, and a WiiWare game make up this week's Nintendo Downloads.
On the 3DS eShop, we finally get Order Up!!. Order Up!! was initially supposed to be released as a retail game, but later became a downloadable. The game mixes cooking with restaurant building. It can be downloaded now for $9.99.
The other eShop game released was Slitherlink by Nikoli. This puzzles game involves connecting dots with lines according to various rules. The game features both pre-made puzzles as well as randomly generated ones. It is available for $4.99.
As for DSiWare, the Nintendo DSi and Nintendo 3DS received Lola's Fruit Shop Sudoku. The game appeals to mostly children with its simplistic graphics and easy puzzles. It can be downloaded for $1.99.
The other DSiWare game this week was Jewel Legends: Tree of Life. This match 3 adventure has players rebuilding the world of the Hods across the games 100 levels. It is available for $4.99.
WiiWare's one game this week was Save the Furries. In this game you complete 60 physics-based puzzles while helping the green creatures called the furries. It can be downloaded for 1,000 Wii Points.
The last game made available this week is Double Dragon II on the Wii Virtual Console. Join Billy and Jimmy Lee as they complete nine missions while facing off against street gangs and ninjas. It is available for 500 Wii Points.