Do you really need multi-touch for your Wii U? Reggie weighs in on the matter.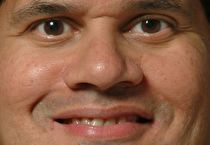 Nintendo of America President Reggie Fils-Aime explained the company's stance on using single-touch functionality as opposed to multi-touch functionality with the Wii U GamePad.
GamePad in hand, Fils-Aime said, "When we went through the building of this and, given some of the functionality, we thought that the single-touch was a more appropriate option, especially when you've got other buttons configurations."
To demonstrate, the Nintendo of America COO held the controller and reached into the touchscreen, constantly keeping the other hand on the controller. From there, he put the controller down and touched the screen with a finger from each hand. Afterwards he remarked, "Is this really the way you want to play a game? I don't think so." Comfort and ease of use seem to be the biggest factors behind the design choice.
When asked not including multi-touch on the GamePad was a matter of cost, Fils-Aime responded by saying, "Certainly there's a cost to it. Again, we envision this as a controller that you're putting in your hands and you're doing a two-screen experience. The concept of putting it in your lap to do multi-touch for us just feels unwieldy."