The eShop gets quite a bit of content, while the Wii only sees one release.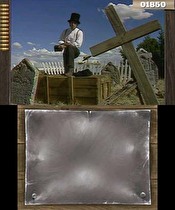 Two Virtual Console games, as well as a slew of new content, head to the 3DS eShop, DSiWare Shop, and Wii Virtual Console this week.
First is Mad Dog McCree, a new eShop release. In the game, your objective is to hunt down the outlaw Mad Dog in a western town using the games light gun style gameplay. Check out our review which is coming soon. Mad Dog McCree is available now for $7.99.
The 3DS Virtual Console received Donkey Kong Jr. In this sequel to Donkey Kong, Donkey Kong Jr. must rescue Donkey Kong from Mario. The game, originally part of the Ambassador NES games, is available for $4.99.
The 3DS didn't receive the only Virtual Console game this week. The Wii Virtual Console saw the release of Mega Man X2. In this SNES game, Mega Man X travels through eight stages to destroy the Mavericks. You can download it now for 800 Wii Points ($8).
The DSiWare Shop got two games, the first of which is Devil Band - Rock the Underworld. In the game, demons have began destroying the world, and you and your death metal rock band are the only way to save mankind. It can be downloaded for $1.99.
The other DSiWare game is 7 Wonders II. In the game, you complete puzzles to help build the 7 Wonders of the World. It is available for $7.99.
Lastly there is a demo available on the eShop for the upcoming 3DS game, The Amazing Spider-Man. You can try out the new game and join Spider-Man in this new web-slinging adventure.