Frozenbyte is searching for the right balance for the price.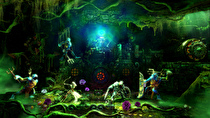 Trine 2: Director's Cut, a Wii U eShop launch title, is going to be either $15 or $20, according to developer Frozenbyte's Sales & Marketing Manager Mikael Haveri.
The game is currently $15 on other platforms, but since the Wii U version features extra content, the company is considering the $20 price to account for the exclusive modes. However, Haveri said that they don't want to make the price so high that no one would buy it.
Additionally, Haveri said that their engine was easy to port over to Wii U. They just brought it over, tuned the visual effects, and it worked fine.
Trine 2: Director's Cut was playable at Nintendo's booth at E3 2012 and was mentioned during the Nintendo press conference.