New StreetPass and co-op modes were revealed.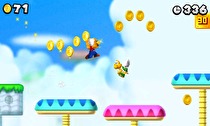 Today during Nintendo's 3DS Software Showcase, while discussing the features for New Super Mario Bros 2. Nintendo announced that the entire single player game will be playable cooperatively.
The gameplay will restrict the players' movements, requiring both Mario and Luigi to be on the screen at the same time. The camera will be tied to the lead player.
The new mode, called Coin Rush, utilizes Streetpass. In it the player can play a pack of three already completed levels with the goal being to collect as many coins as possible. Coins litter the stages in this mode and what were previously 1-Up Mushrooms become golden mushrooms worth 50 coins. Additionally, any remaining time on the clock is added to the player's score. The player also only has one life to work with in Coin Rush, and each score for a run is sent out via StreetPass, letting others see it when they replay the same three levels and try to beat the original player's score.
New Super Mario Bros 2 will launch on August 19, 2012.