After a long time coming, Runner 2 will continue the Bit.Trip saga on Nintendo's latest console.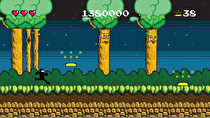 Gaijin Games, creators of the Bit.Trip series of games, have formally announced Runner 2 for the Wii U after months of speculation regarding its existence.
The news was made known through their development blog. The game's official title was also confirmed to be BIT.TRIP Presents: Runner 2, Future Legend of Rhythm Alien. The site lists playable retro challenges that can be played on the Wii U's game pad, 10 playable characters, unlockable costumes and other features that will be announced at a later date.
Like the previous games in the series, Runner 2 will be self published by Gaijin Games.