Asymmetric cooporative gameplay will be imported from 3D to 2D Mario.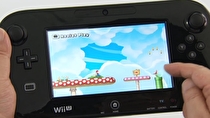 After their E3 press conference today, Nintendo uploaded Iwata asks: New SUPER MARIO BROS. U, in which Takashi Tezuka answers many questions from Iwata.
The name of this launch title was changed from New SUPER MARIO BROS. Mii. Though the word "Mii" was dropped from the title, Miis will be still available, and using their Miis allows players to easily discern which player controls which character.
The game supports multiplayer for up to five players. However, the number of players that actually control a character is capped at four. The other player, holding the Wii U GamePad, apparently concentrates on assisting others. The GamePad's touchscreen is used for this purpose. For example, when the player touches a hole, a temporary shrinking platform will appear; when a player touches an enemy, it stops moving; a Piranha Plant recedes when touched.
In this way, New SUPER MARIO BROS. U integrates asymmetrical cooperative gameplay reminiscent of other entries in the series, such as Super Mario Galaxy.