The Wii U's menu will be rife with player-connecting features, and games will benefit from Nintendo's newly revealed social network features.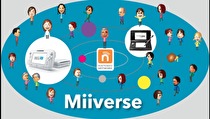 Nintendo's recently revealed "Miiverse" (referred to as "Mii Wara Wara" in early development, a Japanese term that describes the noise a crowd makes) social network functionality will connect players in and out of games in new ways, on both the Wii U and the Nintendo 3DS. It was a major feature of their recent Pre-E3 2012 Nintendo Direct live-stream announcement.
One place players will see the effects of Miiverse (a contraction of Mii Universe) is on their Wii U menu screen. The Nintendo Direct event had video of the Wii U menu screen that, at first, appeared like a large Mii Plaza from the Wii's own Mii Channel. But this Wii U menu had large icons, presumably indicating games or apps the Miis would crowd around, depending on what games other people were actually playing. In fact, even icons for games you don't even own could appear, and you'd still see your friends' Miis flock to it. Speech bubbles would also appear showing communications from these actual players, presumably commenting on the game or activity the Mii is gathered around. The footage also showed zoomed-in views of the new Menu/Plaza.
Additionally, the Miis on the screen weren't just of you (the player) and of other Miis on the system. The Wii U will also populate the menu view with Miis from your friends, and from other players with the same country or language settings as you.
Miiverse also supports messaging between players, but goes beyond simple text. Just like the 3DS' Swapnote application, Nintendo showed footage of simple handwritten messages or doodles in the messages sent between Miis. Nintendo also showed that the expressions of the Miis used to send the messages could also be changed. Footage from the event also showed an option to add an image to the message, and a place to possibly mark the message as containing spoilers.
However, details around how exactly two players might gain permissions to exchange messages were not given. A demo video shown during Nintendo Direct showed a player dying in a game and then using Miiverse functionality to send out a question about how to defeat a specific enemy that killed him.
Miiverse features will also be integrated directly into games. Nintendo showed one example where players dying in a game saw messages left by other Miis/Players who had presumably died in the same spot. They also showed a Mario-like level select screen where you could see notes from other players regarding different levels in the game. This is reminiscent of recent Nintendo patent information regarding single-player games where players see messages from other players. In fact, Iwata suggested that even single-player games that don't attempt to directly integrate Miiverse into their gameplay will still benefit, since the Miiverse functionality can be accessed by hitting the Home button. This suggests that the game is suspended while players presumably use Miiverse through the Wii U.