The eShop got quite a bit of content today.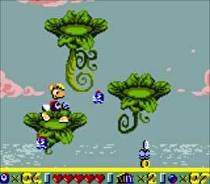 The week before E3 has a great number of downloadable games heading to all services, except WiiWare.
First on the 3DS Virtual Console is the Game Boy Color game, Rayman. In this classic platformer, Rayman must save the Electoons across the games six worlds, and defeat Mr. Dark. It is available now for $4.99.
Also available on the eShop this week is another puzzle game, Kakuro by Nikoli. The title features 50 puzzles in which you break down numbers into smaller parts to fill in various grids. The game can be downloaded for $4.99.
Available on both the Nintendo DSi Shop and eShop is 99Seconds. In this retro-style game you can alter time in order avoid the dangers that face you. 99Seconds is available for 200 points on the Nintendo DSi Shop and $1.99 on the eShop.
The Wii Virtual Console received Metal Slug 3. In this installment of the Metal Slug series, players join Marco and Tarma as they blast their way through the various Slugs. It can be downloaded for 900 Wii Points.
Lastly, the eShop received a demo for Order Up!! Order Up!! was initially scheduled to be released as a retail game, but is now releasing on June 21. In the game you get to take on the role as a chef and begin to build your own restaurant empire. You can read an interview with the game's developer, Supervillain Studios, here.