A Wii U version of the game could still happen in the future, but isn't actively being worked on.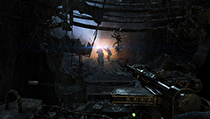 Metro: Last Light, the sequel to the bleak 2010 shooter Metro 2033, is no longer confirmed to release on Wii U, according to THQ Global Brand Manager Mark Madsen.
In an interview with Digital Spy, Madsen noted that while a Wii U port of the game "could" occur in the future, work on such a version is not happening at present.
"Not at the moment, it's not in development," he clarified.
"If it does happen, it won't sim-ship with the other SKUs, but if the opportunity arises we'll take a look at it."
Madsen also noted that the game's inclusion in Nintendo's presentation of third-party games on Wii U at last year's E3 was not an inopportune announcement.
"No I don't think it was a bit too early [to show the game at E3]. As we got along in the development process, we just really wanted to focus on what we knew, focus on PS3, 360 and PC.
"The verdict is out on what we can do to maximize the code for the Wii U, and we'll see [what happens]."