Quench your thirst and have Mario to back you up.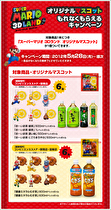 Ito En, a company known for being one of the largest tea distributors in Japan, is including Super Mario 3D Land toys with its products starting on May 28. There are two varieties of the toys, with each variety featuring six different characters. The characters include Mario, Tanooki (Fox) Luigi, Stone Mario, Koopa Troopa, Toad, and a Goomba.
Depending on what kind of drink you purchase, the "medal" included with the toy will vary as either a Star Coin or a Super Leaf. Drinks sold with the Star Medals are on the Oi Ocha line of drinks and are included with 500 ml bottles of green tea (ryokucha), dark green tea (koi aji), mild tea (nigori maroyaka), and 1 liter bottles of green tea. These are available at convenience stores and train station kiosks. Super Leaf medals are included with 600 ml and 630 ml bottles of barley tea (kenkō mineral mugicha) and are available at convenience stores, train station kiosks, and retail stores throughout Japan.