The other versions are all delayed until February 2013.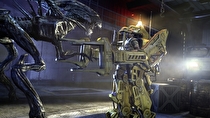 Sega was coy about the Wii U release date of Aliens: Colonial Marines in a press release that announced a February 12, 2013 release date for other platforms.
"A release date for the announced Wii U version will be revealed at a later time," read the official release.
This could mean a few things. First, it could be coming out a little after the other versions, or possibly at the same time. Sega and Gearbox Software might have their hands tied until the Wii U gets re-unveiled at E3 2012.
There is also the off-chance that Aliens: Colonial Marines could be coming out on Wii U this year, before the other versions. We do know that Gearbox has been working with Wii U development kits since before E3 2011. Gearbox's Randy Pitchford has also gone on record saying that he expects the Wii U version to be the most graphically impressive console version of the game.
"The Wii U is a next generation system. It hasn't even come out yet and we've had our 360s and PS3s for a while now so it's natural that it's a very powerful system. Now, it's up to Nintendo to talk about their system and they haven't revealed all of their details yet, but so far we're thrilled with it," Pitchford said in a recent interview with GameSpot. "It's pretty clear to us that the best-looking console version of Aliens: Colonial Marines is going to be on the Wii U."
Pitchford also discussed the potential of the Wii U controller as a motion tracker, and how the controller's screen could be useful as a scoreboard during multiplayer.
See below for a new trailer of the game.