We won't be reporting back about Wii U motion tracker controls at E3.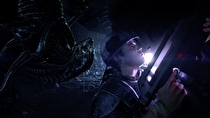 The Wii U version of Aliens: Colonial Marines will not be playable at E3 2012, according to representatives from Sega.
This follows earlier news of a delay to February 12, 2013 for other versions of the game. The Wii U version wasn't given the same solid release date, with Sega saying that that version's release date would be announced later.
This effectively dashes any dreams of Aliens: Colonial Marines being launched on Nintendo's next system before the other versions. It is likely that Sega and Gearbox's game will come out on Wii U sometime in the first few months of 2013.