Will QR codes lay eggs?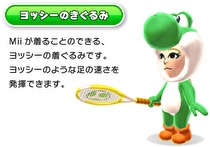 The Japanese site for Mario Tennis Open reveals some of what the various QR codes for the game will unlock, including codes to unlock multicolored Yoshis with different statistics. The site currently shows a blue Yoshi and six question-mark circles representing other characters.
There is also one QR code that will give players a Yoshi costume, enabling their Mii to run as fast as Yoshi.
There is also another QR code-locked feature that is left unrevealed in the official site, which is where the QR codes will be displayed when they are available.
Mario Tennis Open will support QR codes as well as many other functions of 3DS, such as StreetPass and online multiplayer modes, according to its official site.