The Nintendo versions might not have free-roaming to boot.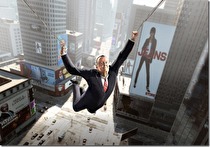 While Stan Lee will be shooting webs around New York City as an Amazon pre-order bonus for the Xbox 360 and PlayStation 3 versions of The Amazing Spider-Man, the Spidey co-creator will not be playable in the Wii, 3DS, or DS versions of the game, according to an Activision representative.
The DS version is being developed by Griptonite Games, who made the well-received Metroidvania Spider-Man games on DS (Web of Shadows and Shattered Dimensions).
The Wii and 3DS versions are both being developed by Beenox, and historically, Beenox's Spider-Man games on those systems have been downgraded versions of the 360 and PS3 versions. However, GameStop's description of the games says that the free-roaming available in the 360 and PS3 versions is not in the the Wii and 3DS games. We have yet to hear confirmation from Activision about this.
Stan Lee will playable in the 360 and PS3 versions in a bonus mission where he has to collect pages of a lost manuscript.
The Amazing Spider-Man is hitting Wii, 3DS, and DS on June 26.