The online and StreetPass modes are also further detailed.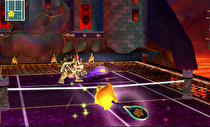 Mario Tennis Open will hide some characters behind special QR codes, according to a recent press release. It's also confirmed that Baby Mario will be one of the game's unlockable characters.
That brings the total number of known characters up to 17, with 13 of them likely available from the start. Three of those four, Dry Bowser, Baby Mario, and Luma, are confirmed to be locked at the start. It is unknown how each character will be unlocked, but it seems that some will be available through QR codes and some will be available through gameplay.
The online mode will feature monthly leaderboards and allow players to win Victory Medals from challengers. There are also Open Match standings, which the way it is worded in the press release ("Players can also build up their Open Match standings") could either refer to general standings or a personally curated list.
StreetPass for Mario Tennis Open will do two things. First, it will let you play against or alongside of computer-controlled versions of people in a regular match or a Ring Shot challenge. Also, you can show off your customized Mii and receive new items for your Mii from the person you passed.
Mario Tennis Open is coming out in North America on May 20.