Enjoy Gaming's second eShop title lets you make your own block-dropping puzzle game.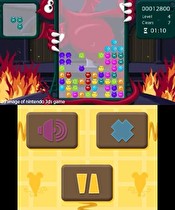 Block Factory will be the next eShop title released in Europe and North America, according to publisher Enjoy Gaming.
The game appeared in the eShop last week under the "Coming Soon," and appeared on a press release from Nintendo of Europe about this week's downloads. We confirmed with Enjoy Gaming that Block Factory is also coming to North America this week as well.
The concept of the game is that you can create and share your own block-related puzzle games. It comes with four predefined games, but you can tweak them all to your liking. You can gather new games from QR Codes and StreetPass.
Block Factory will be €4 when it hits Europe on Thursday. The price will likely be $4 in North America (Thanks DivineAlpha!).