Baby Peach and a Luma will be joining the fray.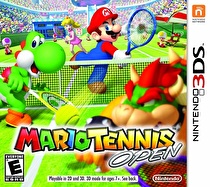 16 characters and Mii accessories have been announced for Mario Tennis Open by Nintendo President Satoru Iwata.
Of the 16 characters, both Luma and Baby Peach have been announced as playable. In addition, the previously announced Mii's will have over 200 accessories available, such as rackets and clothing. These accessories affect attributes, like spin and speed.
Mario Tennis Open releases in Japan May 24.