Mario will grace yet another country with his 3DS presence.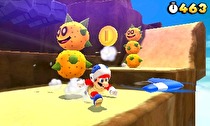 The Nintendo 3DS launches in South Korea on April 28, and will be accompanied by Super Mario 3D Land, Tekken 3D Prime Edition, and Nicola Magazine Model Stylish Audition 2.
The 3DS will retail for 220,000 won ($193) and is featured in three different colors: cosmo black, misty pink, and cobalt blue. These three different colors will be joined by only the three aforementioned retail release games.
Nintendo does plan on releasing other Nintendo 3DS games in South Korea later this year. Most notably, Mario Kart 7, Mario & Sonic at the London 2012 Olympic Games, Star Fox 64 3D, Nintendogs + Cats, and The Legend of Zelda: Ocarina of Time 3D will all be released at prices ranging from 42,000 won ($37) to 49,500 won ($43.50).
Super Mario 3D Land is the most notable of the launch titles for the system in Korea. Our review for the game can be read here. A review of Tekken 3D Prime Edition can be read here.