Time to get some Toki Tori merchandise.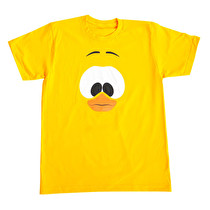 Two Tribes has opened their digital shop, which strictly features Toki Tori merchandise.
The online store, which can be accessed here, features only two items: a 4GB USB storage device that resembles Toki Tori (available for €24.95), and a Toki Tori t-shirt (€19.95).
The store also features some bundle deals. Purchasing both the t-shirt and USB device saves you €10. Purchasing two of the USB devices also grants you a third one free.
All purchases currently ship for free worldwide. If you ever wanted something that resembled Toki Tori, now may be the time to purchase some merchandise.