Xseed will be bringing this dungeon crawler to western 3DS owners.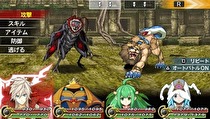 UnchainBlades ReXX will be given a western release as Unchained Blades, to be published by Xseed on the Nintendo 3DS.
The existence was initially hinted on the publisher's Twitter account, offering photos of a Tyrannosaurus Rex, a single blade of grass, and a scene from the movie Ghost (in which the theme song Unchained Melody plays). Although the game has not yet been formally announced by Xseed themselves, the table of contents in the April issue of Nintendo Power confirmed the release. UnchainBlades was originally a retail release in Japan, but the game's release format is listed as downloadable.
Unchained Blades is a turn-based dungeon RPG featuring a cast of characters designed by popular Japanese illustrators. The game's world is populated by monsters who have a human form before they mature, and the main character, Fang, once a powerful dragon emperor, is cursed into a human form. "Unchained" refers to a system where you can convince monsters to fight with you in synchronized attacks. As of right now, there is no word regarding any localization of the PSP version.