The developer once again holds the rights to its 3DS platformer.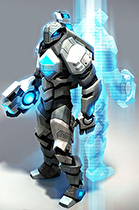 Endgame, the developer of Fractured Soul and its 3DS incarnation, Fractured Soul: Deep Void, might self-publish the latter through Nintendo's eShop service.
In an interview with Joystiq, Endgame managing director and co-founder Grant Davies (whom we spoke with about the games last month) noted that while N3V Games holds the distribution rights to the yet unreleased DS version (which was to be published by Graffiti Entertainment), the publishing deal made with Ignition Entertainment regarding Deep Void fell through.
"With the 3DS, we got involved with a publisher on that one," Davies said, "and they got to the point where they could no longer honor their contractual obligations to us."
The situation resulted with Endgame retaining the rights to the completed Deep Void, its plans for which may involve digital distribution.
"Now it's no publisher," Davies said, "and we have the rights, and we have a completed game, so that's why we're kind of thinking maybe eShop is the way forward."