The battle to defeat the Underworld minions will begin soon.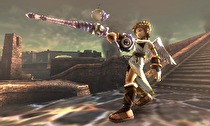 Kid Icarus: Uprising will be launching for the Nintendo 3DS in Australia on March 29, 2012, Nintendo Australia announced.
The game's story starts out with the return of Medusa, the Queen of the Underworld. Pit along with the help of Palutena the goddess of light, must combat the forces of darkness by air and land.
Kid Icarus: Uprising is compatible with the Circle Pad Pro accessory offering an alternate way to control the game for left handed players.