Character creation and a new gameplay feature are among the announcements.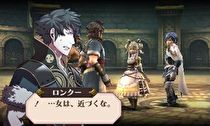 Details regarding main characters, gameplay, and title meaning for Fire Emblem 3DS have been revealed in an article published in the most recent issue of Jump.
Foremost, the article explained the meaning behind the title Fire Emblem Kakusei (or "Awakening").
"Two sleeping dragons -- one a sacred ally of mankind, the other its sworn destroyer. Two heroes marked with symbols of the dragons. Their meeting heralds the dragons' awakening -- and the world's ending," the article said.
Jump also revealed that Fire Emblem has two main characters. One of which, named Krom, is the prince of the Kingdom of Iris, who is of the Lord class and uses a weapon called Sealed Sword Falchion. The other main character, however, is of the players own creation. The game allows the player to select gender, facial, and other features. It is unknown whether this character will serve a primary or secondary role, but the magazine stated that the meeting between Krom and the player's character is a major part of the story.
Finally, two gameplay components were introduced, Free Maps and the Dual system. Free maps is an established Fire Emblem feature allowing free movement across the map to purchase goods or take part in battle. The Dual system is completely new for Fire Emplem, allowing the player and an ally to enter battle together when positioned next to each other.
Fire Emblem launches in Japan April 19.