The color swapping game for the 3DS will also see a release in Japan.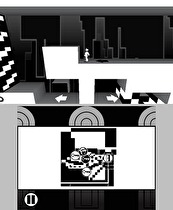 Shifting World, based on the flash game of the same name, will also see a release in Japan thanks to Arc System Works.
The game (which will be known in Japan as Shifting World: The Black and White Labyrinth) has players swapping colors in order to change what the character is standing on. The 3DS version will have new graphics as well as 3D puzzles.
Shift will be released in Japan on April 26. North America will receive the game by Aksys on April 24.