Wii owners can now grab any once-expired demo on the service.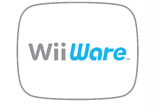 Every WiiWare demo on the Wii Shop Channel is available again for download.
The service grew quiet in September, with the last available demo being offered for Microforum's 3D Pixel Racing. Unannounced, Nintendo has made every single trial accessible to Wii owners who may have missed out. It is not clear how long they will remain available.
The service was originally announced by Satoru Iwata during a Q&A session in 2009, where he explained that the intention was to offer the demos with limited availability, and for new ones to be put up as older ones expired.