Puzzle lovers unite next week!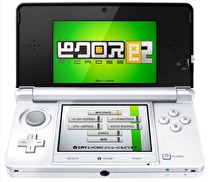 Picross e2 and the Game Boy version of Tetris are coming to the eShop in Japan on December 28. Picross e2 is priced at 500 yen and Tetris is priced at 400 yen.
This marks the second downloadable Picross title to appear on the eShop in Japan, with the first title appearing in the summer. This updated version includes 150 new puzzles and a new mode called, Micross, which feature puzzles inside of puzzles. For example, if the whole problem 64 piece puzzle, the first piece will contain a 10x10 puzzle to solve. Once you solve the entire puzzle, you get to see masterpieces from Da Vinci, Van Gogh, Millet, Rembrandt and Valazquez.
Picross e2 or even it's predecessor, Picross e yet to see a release outside of Japan. Tetris is scheduled to release on 3DS Virtual Console in Europe this week.