Terry Cavanagh's latest indie game will make its first 3D appearance.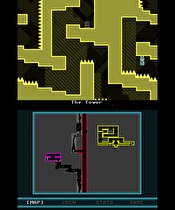 Nicalis has announced that they will be publishing Terry's Cavanagh's VVVVVV as a 3DS eShop title.
The title is a platformer designed to resemble the classic games of yesteryear, complete with a 8-bit graphical style and chip tune music courtesy of Magnus Palsson. VVVVVV was released late in 2010 for the PC. The main character of the game is Captain Viridian, who must rescue his ship crew, whose names humorously start with the letter "V".
While Nicalis promises that gameplay will remain the same, some new features will be added to this edition of VVVVVV, such as 3D graphics, dual-screen functionality and new levels.
No date has been confirmed for VVVVVV.