Skyward Sword's limited edition is being released down under.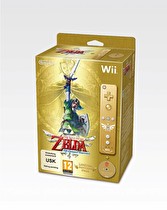 Despite the apparent neglect Australia has received regarding the 25th Anniversary Zelda Symphony Orchestra tour, the soundtrack will indeed be available here in not one but two special editions of the game.
According to Nintendo, the "Special Limited Edition Bundle" will include the soundtrack CD and Hylian Crest Golden Wii Remote Plus, identical to the pack releasing overseas.
Those who miss out on the whole shebang can instead opt for the standard "Limited Edition" version, featuring just the game and the CD, sans the golden Wii Remote.
Finally, the standalone version of the game with no bonus content will hit store shelves following the tight availability window of the special versions. Fans are recommended to get to their nearest retailers asap to preorder if they're interested in either of the extra pack-ins. A full list of retailers getting the special editions can be found here.
The full price and release date in Australia will be revealed at a later time, and we'll keep you posted as soon as we know more.