Also, an alternate bundle including the game, CD, and the golden Wii Remote Plus will be available for $69.99.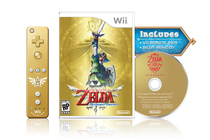 Nintendo revealed that a special The Legend of Zelda 25th Anniversary Symphony Concert CD will be included with every first-run copy of The Legend of Zelda: Skyward Sword when it debuts on November 20.
Additionally, the Zelda-themed gold Wii Remote Plus will be released in a special bundle, available for $69.99, that will come out on day one. This bundle will also include the CD. The CD will include special arrangements of select songs from the concert that is starting in Los Angeles in October.
Included with the announcement was an image showing off what can be assumed to be the final box art (see image) for Skyward Sword.