Love Plus' 3DS sequel will be sold with a limited edition console.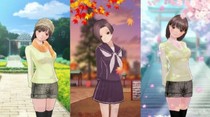 Upcoming sequel to the popular Japanese DS dating sim Love Plus is going to receive three limited edition hardware bundles for those who haven't yet picked up the handheld system.
Much like the limited DSiLL bundles that came with the first game's update Love Plus + last year, the three limited sets will be named New Manaka Deluxe, New Rinko Deluxe, and New Nene Deluxe, after the three girlfriend choices in the game.
The limited handheld packs will only be available to customers who order online through Konami Style on their official website.
Customers who already have their 3DS system or do not want to pick up the limited machine will also have the option to buy a limited edition of the game itself, planned to come packed in with an art book.
No pictures or artwork have been revealed for the upcoming packs yet, but more information should become available soon.