Pokémon are coming to iOS and Android this summer.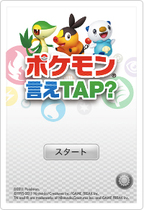 A Pokémon game is currently being developed for release on the Apple App Store and the Google Android Market. The game, titled Pokémon Ie TAP? (Pokémon Say Tap?), is a music-based game that has the player trying to tap in game Pokémon cards with a beat. The Pokémon music and creatures are the ones featured in Pokémon Black and White.
The game will hit the App Store and Android Market this summer in Japan. It is compatible with iOS 4.3 or higher and Android Version 2.1 or higher.