European members of Club Nintendo can pick up a neat new storage solution with their stars.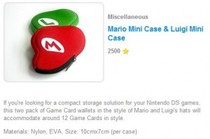 The European version of Club Nintendo updated today with a new reward for all its members to obtain.
Priced at 2500 stars, Mario and Luigi mini cases for Nintendo DS games were added to the list of rewards. Made from nylon and EVA, the pouches measure 10cm x 7cm per case. Each storage case can house up to 12 game cards. The set includes both cases.