Over 20 percent of Nintendo 3DS owners in the United Kingdom in its debut weekend.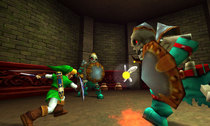 According to Gfk Chart-Track data, The Legend of Zelda: Ocarina of Time 3D was purchased by over 20 percent of the handheld's userbase during its debut weekend in the UK.
With such a strong opening, Nintendo is confident that the game will be able to maintain strong sales throughout the summer. Nintendo UK head David Yarnton claimed, "We generally find that summer time is a good time for handheld gaming and we have lots of sampling and summertime events to get more people hands on with it – that leads us nicely up to all that great content coming out."
Compared to last week, The Legend of Zelda: Ocarina of Time experienced a 69 percent decline in sales, slipping four positions to sixth on the combined plaform chart. On the Nintendo 3DS sales chart, the game held strong in the first spot.