WayForward announces the third entry in the "Mighty" series.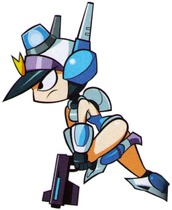 WayForward has announced Mighty Switch Force for the Nintendo 3DS eShop, the third game in the "Mighty" series.
Following Mighty Flip Champs and Mighty Milky Way for the Nintendo DSiWare service, the game stars a female character who must make her way through a series of stages featuring a variety of puzzles, though unlike past games in the series, Mighty Switch Force puts more emphasis on action. According to a recent interview conducted by Nintendo Power with Matt Bozon, Creative Director of WayForward, the game features Metroid-like gameplay.
For the full interview with Mark Bozon, you can pick up July's issue of Nintendo Power when it hits stores early next month.