Check out the new The Legend of Zelda: Ocarina of Time 3D commercial that includes Williams, his daughter, and an epic beard.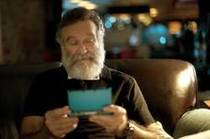 Nintendo UK unveiled a new television ad for The Legend of Zelda: Ocarina of Time 3D featuring Hollywood actor Robin Williams and his daughter Zelda.
Robin Williams, famous for his roles in Mrs. Doubtfire and Good Morning Vietnam, has been a fan of the Zelda series since he played the first game on the Nintendo Entertainment System in 1987. His daughter, Zelda Rae Williams, is named after Princess Zelda.
Word first leaked of the commercial when Zelda Williams tweeted about a "super secret" video shoot last month.
The commercial is embedded below.
Robin and Zelda Williams discuss her naming as well as Ocarina of Time more in the video below.