Nintendo plans an experience closer to its rivals than any system to date.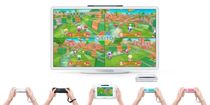 Nintendo plans to present an online model for Wii U that is significantly more sophisticated than the online offerings for Wii or DS. Speaking at E3 with Eurogamer, Nintendo UK marketing manger Rob Lowe noted that Nintendo recognizes that the online presence of a game console is far more important now than it was when the Wii launched. In much the same way that HD has become the de facto standard, a robust online presence is required for a modern console.
To demonstrate kind of evolutionary leaps that should be expected by Nintendo's next system he points to the evolution from DS, which used game-by-game friend codes, to the 3DS, which uses a single system-wide friend code. "We can't talk about the details yet...But with online of 3DS it's obviously a massive leap on from where we were with DSi and DSi XL." The friend code "still exists but in the same way that you'd need to pair up with friends on PSN or Xbox LIVE" to exchange screen names.
Nintendo faces unique challenges in the online space. Lowe notes that "we do have more younger consumers than any other hardware manufacturer... we need to protect them" while striking a balance with the needs of "more active and hardcore consumers."
He reconfirmed that Nintendo has brought in outside expertise in order to best design the online experience that Wii U will offer, noting that online gaming is "something that perhaps we've struggled with in the past."