Special black Headbanger Headset will join the upcoming shooter.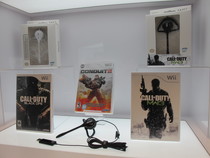 Activision's Call of Duty: Modern Warfare 3 will be arriving on Wii, if an upcoming accessory is any indication. A black version of PDP's Headbanger Headset is set to be released in October this year.
Activision has not officially confirmed the game for Wii, and a tweet by Infinity Ward specifically excluded confirmation of a Wii version, throwing its existence into question. The previous version of Modern Warfare, Reflex Edition was developed by Treyarch, but the developer of Modern Warfare 3 on Wii is still unknown.
The black Headbanger Headset, which follows the original white version and black Call of Duty: Black Ops version, will retail for $29.99. The headsets currently support Call of Duty: Black Ops and Conduit 2.