Sakurai teases at the possibilities on Twitter.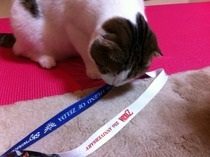 Masahiro Sakurai, Super Smash Bros. Brawl and Kid Icarus: Uprising director, posted a photo of his E3 pass that hints at the possibility of a Zelda 25th anniversary project at E3.
Another photo features a playful shot of Sakurai's cat gnawing at the pass's lanyard. On one side, it has the words "The Legend of Zelda: Skyward Sword". On the other side, it reads "Zelda 25th Anniversary".
Earlier this year, Nintendo executives Shigeru Miyamoto, Satoru Iwata, and Hideki Konno mentioned the company is working on projects commemorating the 25th anniversary of the release of The Legend of Zelda for the NES, similarly to last year's Super Mario anniversary celebration.
In a live video interview with Eiji Aonuma, conducted by Famitsu earlier this week, the series producer hinted at another Zelda title being shown at E3 aside from the upcoming Skyward Sword. No other details regarding the project have been revealed.