And there will be a secret NIS-related addition, too.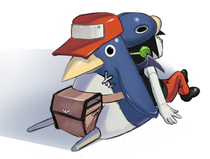 Cave Story 3D won't just feature brand-new 3D graphics, as you'll be able to switch between the 3D character models and the retro 2D sprites of the original version, publisher NIS America revealed today.
Additionally, the game will feature a NIS-related Easter egg, likely something involving their mascot, Prinny.
Cave Story 3D is coming to 3DS on August 9. Read our impressions of the title and our interview with Daisuke "Pixel" Amaya and Nicalis' Tyrone Rodriguez.