Ever wondered what green herbs taste like?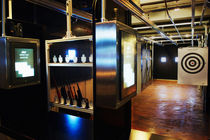 Capcom has teamed up with EA (pronounced "AIR"), an air-shooting bar in Tokyo, to open up a special place to replenish your health in celebration of Resident Evil's 15th anniversary.
The bar-slash-air-shooting gallery will be refurbished to look like the interior of the S.T.A.R.S office, fitting in with the story and style of the Resident Evil series. Visitors can leisurely shoot at special zombie-decorated targets, then partake of various refreshments such as a "Three-Herb Cocktail". A commemorative video for the series' anniversary will be featured on location.
The promotional outbreak will linger in the store from May 20 to June 19.