After taking apart the 3DS, the RAM chip has been identified.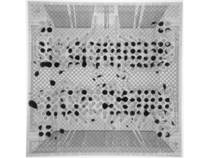 The Nintendo 3DS contains two 512 megabit FCRAM memory dies inside a Fujitsu RAM chip, for a total of 128 MB of RAM.
A repairs blog recently disassembled the 3DS, revealing the component parts. The RAM chip was identified to be a Fujitsu MB82M8080-07L chip, an alias for part number MB82DBS08645, leading to the possible identification of the memory dies as the 512 megabit Fast Cycle RAM from Fujitsu. Their Fast Cycle RAM specifications indicate a 200 MHz operating frequency with a peak data rate of 3.2 GB/s.